Interior
Kitchen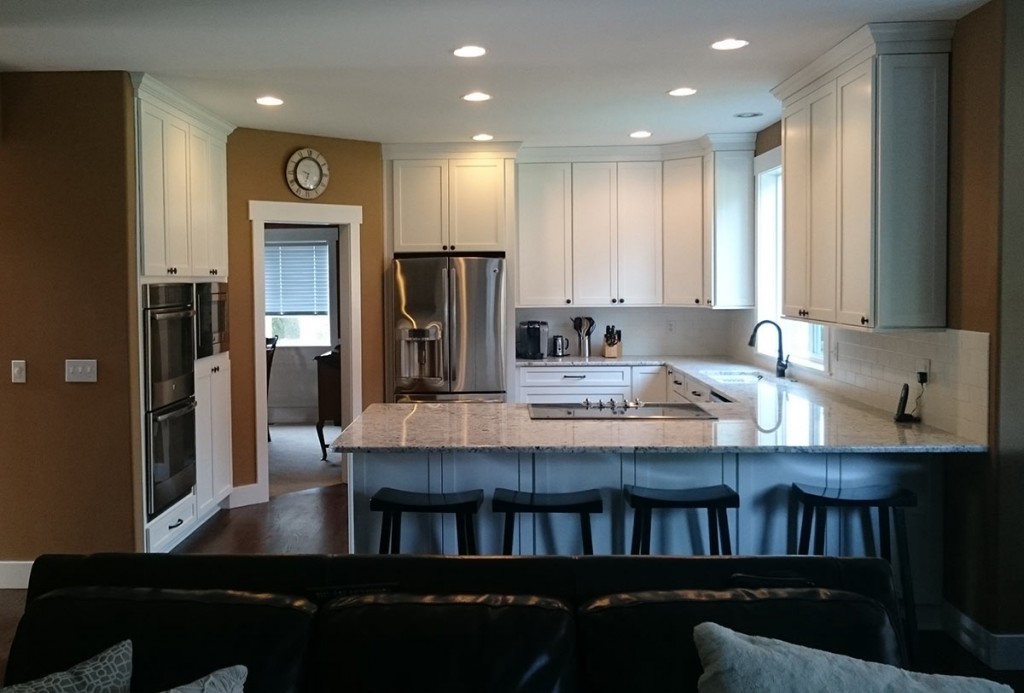 Kitchen design used to be a purely functional set of decisions. Where the triangle design was once the standard, customers today are looking at the way they operate in this space and taking a more customized approach to redesigning one of the most used rooms in the home.
Because we are often updating older homes, the number of choices can become overwhelming. Many clients use a personal interior designer to help with cabinet, counter and floor selections. For those that choose to go it alone, we send them to pre-selected cabinet designers where they can see the different styles available to them. Together, we help them put together the package that suits their taste, space and budget. After that we help them select sinks, faucets, backsplashes and appliance packages as well as counters and flooring to complete the room. We offer as much or as little assistance as the client needs during this part of the process.
Remodeling a kitchen can be as simple as updating the cabinets in place and installing new appliances but if there are structural changes to be made, we can handle that too. Whether the client wants to move, or actually remove a wall we are able to handle the additional plumbing and electrical changes as well.
Bathrooms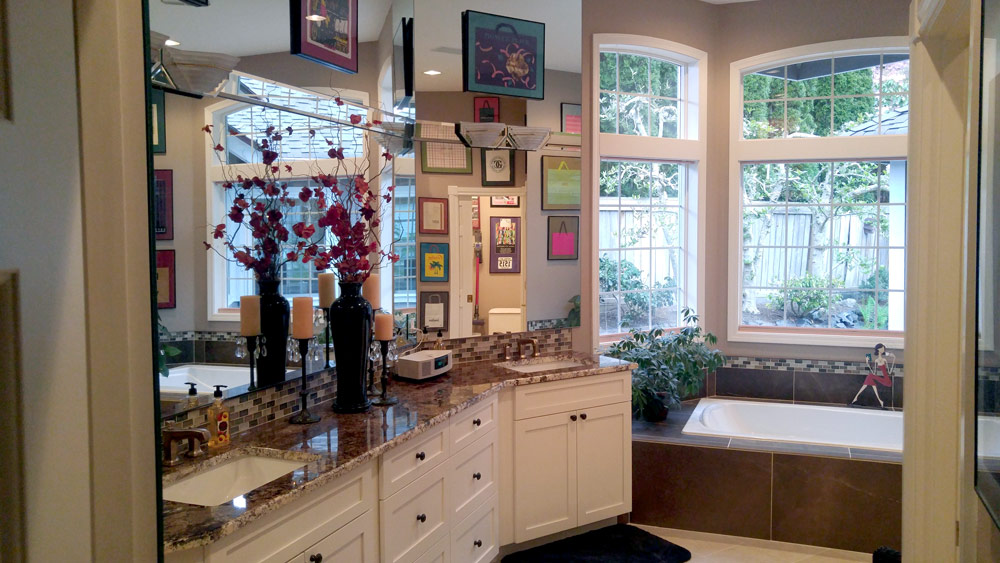 Every project starts with the client. Before we begin we will sit down and talk about the process and the budget. If the job is a complete teardown, we start with choosing cabinets and the tub or shower and design from there. We have experience with master bathrooms where we have done a lot of heated floors and extensive tile, granite and quartz work. Our team talks with the client about what was working and what was not working in the previous space and address those issues as well as any need for additional storage or special touches that they want to add. From our conversations with the client we will design the technical aspects of the bathroom to improve functionality and flow. Everything is finished based on the customer's selections and input and our many years of experience ensures that the job is done right.
Door and Trim Package
A simple way to update a home is by replacing wood skinned or hollow core doors which were popular styles during the 60's and 70's. Solid core doors with painted or paneled options can change the look of a room but also improve functionality in spaces where privacy is important. Multiple trim packages available in victorian, colonial or modern styles to complete the transformation.
Whole House Remodel
Sometimes homes with old bones require a top to bottom update. Customers often want to open up walls and give their home more light and open spaces. We get involved with a team of designers and start with a visual layout of the space which becomes a set of plans that can be used to acquire permits for the required inspections. When moving or tearing out walls, it is important to know what wiring and plumbing may need to be moved or replaced to accommodate the new layout.
We do a lot of knob and tube electrical removal and replace walls where lath and plaster have started to fail. Whole house remodels can be as simple as an update of electrical and plumbing or a change to the complete floor plan of the home. Each project is designed with the customer in mind to help make life in their home better for them.
Exterior
Handicapped Accessibility – Wheelchair Ramps
Most homes were not designed to accommodate the elderly or disabled owner. As the population ages, many choose to stay in their homes rather than move to smaller apartments or assisted living facilities. This often necessitates modifications to the structure or floor plan to allow for wheelchair or walker access to the living areas. This can be as simple as installing an outside ramp to allow for easy entry or as complicated as widening hallways and doorways for maneuverability.
Bathrooms are one specific room where customers will take care to install edgeless showers, grab bars and shower bars to ensure safety and independence for those in wheelchairs or unable to climb into and out of old shower and tub installations.
Window Replacement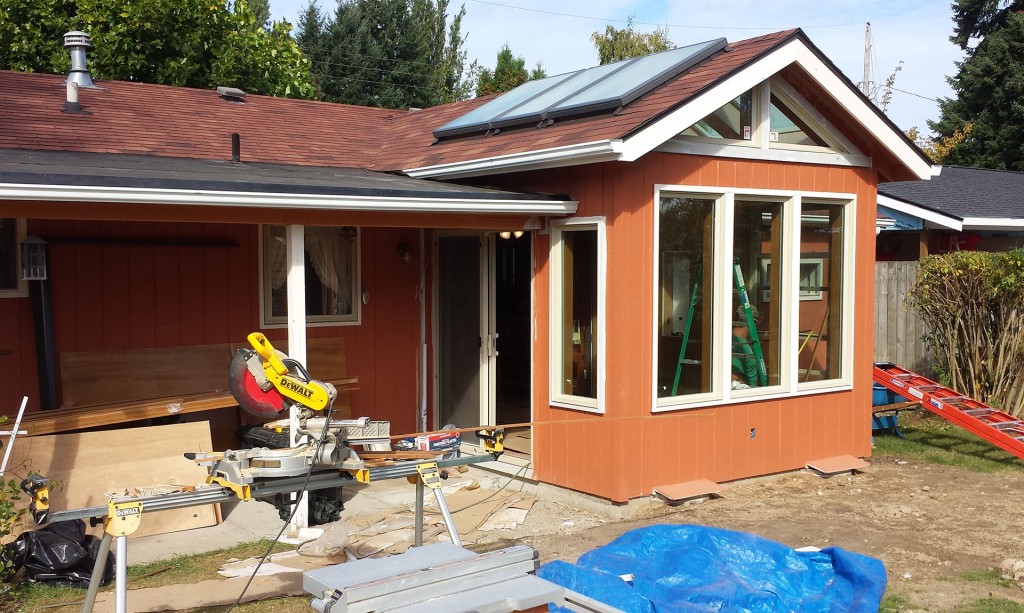 A lot of window replacement jobs involve removing older encasements or single-pane glass that doesn't keep the heat in or the sun out. We come in, measure the existing openings and install newer wood or vinyl packages that are very energy efficient and offer more protection for the home. New windows are double-paned, low E glass with a slight tint to block out some UV rays which can damage fabrics and hardwood flooring. Many options also include a new trim package which helps to seal up the exterior and eliminate drafts and inefficiencies.
Siding Replacement
A lot of siding products used in older homes are no longer available on the market which makes major repairs difficult once aging exteriors begin to fail. We start most of our jobs with the removal of old siding and then we help customers choose the look and material for their budget and climate. Next is the application of a new house wrap to seal up the home followed by siding installation and replacement of all trim, corner boards and billy bands.
Hardie siding, which is a cement fiber, is currently a popular choice for new installations but cedar siding and vertical T1-11, or Hardie backer, continue to be good choices depending on the age and design of the home. Once the replacement is complete, our team will seal and caulk the seams and joints creating a watertight exterior that will add years to the life of your home.
Decks
We see a lot of different deck designs out there and the space that customers have available to them is going to help dictate what kind of an outdoor living space they can create. Whether it's a second story deck, a two-tiered deck, a single level deck with hand railings or maybe planter boxes or bench seating on the exterior, there's a lot of options available to create an outdoor living space. Our process starts with generating a set of plans that can be used to pull permits with local city and county agencies. Each set of plans will spec out lumber needs, tie-downs, hold-downs and fastens that are to be used and confirmed during inspections.
During this part of the project we will also help customers select the best materials for the environment which can range from cedar, a perennial favorite, to newer composites which are very popular and come in different colors and designs.